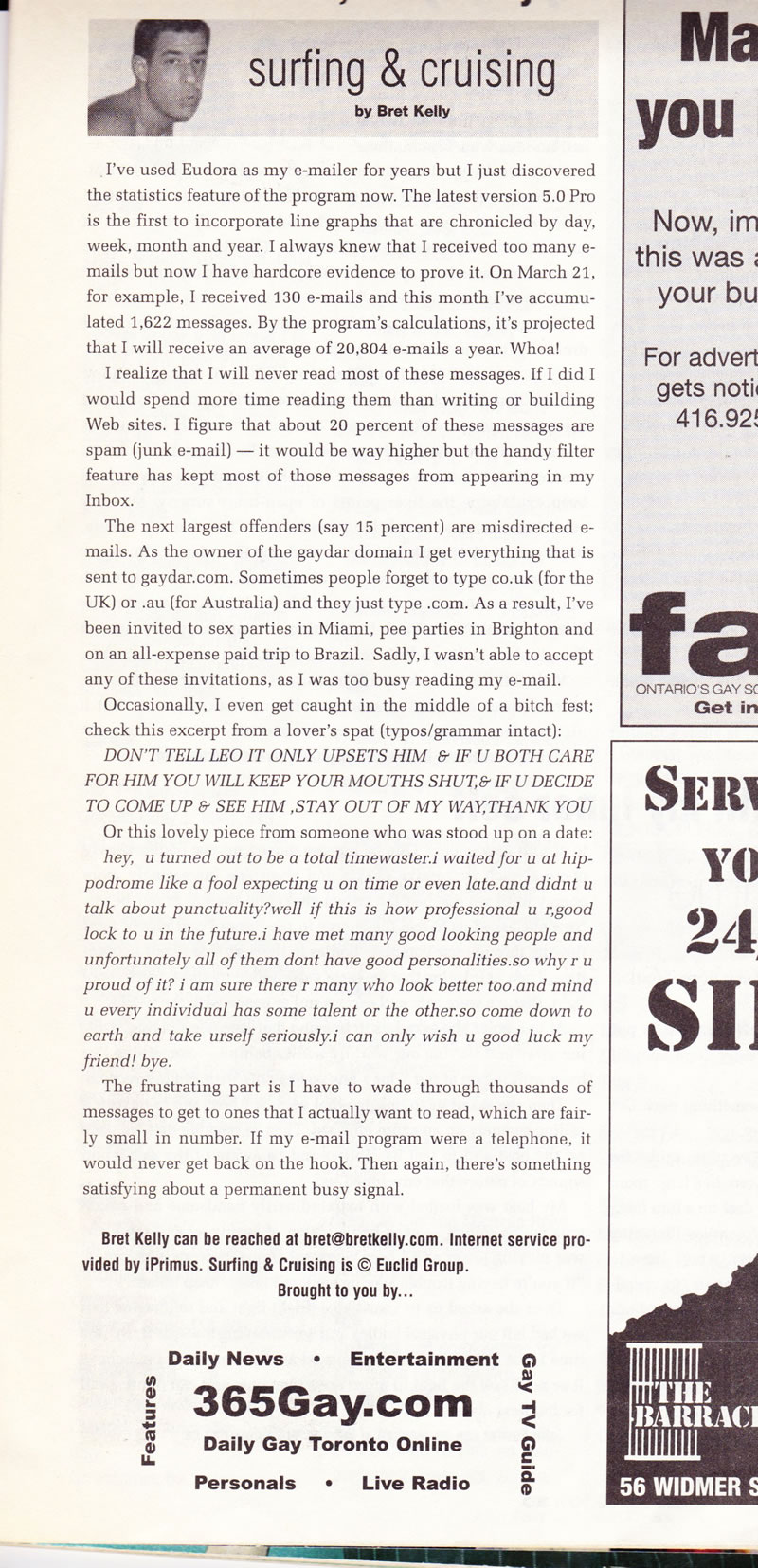 Surfing & Cruising
Email
by Bret Kelly
I've used Eudora as my e-mailer for years but I just discovered
the statistics feature of the program now. The latest version 5.0 Pro
is the first to incorporate line graphs that are chronicled by day,
week, month and year. I always knew that I received too many e-
mails but now I have hardcore evidence to prove it. On March 21,
for example, I received 130 e-mails and this month I've accumu-
lated 1,622 messages. By the program's calculations, it's projected
that I will receive an average of 20,804 e-mails a year. Whoa!
I realize that I will never read most of these messages. If did I
would spend more time reading them than writing or building
Web sites. I figure that about 20 percent of these messages are
spam (junk e-mail) —— it would be way higher but the handy filter
feature has kept most of those messages from appearing in my
lnbox.
The next largest offenders (say 15 percent) are misdirected e-
mails. As the owner of the gaydar domain I get everything that is
sent to gaydar.com. Sometimes people forget to type co.uk (for the
UK] or .au (for Australia) and they just type .com. As a result, I've
been invited to sex parties in Miami, pee parties in Brighton and
on an all-expense paid trip to Brazil. Sadly, I wasn't able to accept
any of these invitations, as I was too busy reading my e-mail.
Occasionally, I even get caught in the middle of a bitch fest;
check this excerpt from a lover's spat [typos/grammar intact):
DON'T TELL LEO IT ONLY UPSETS HIM 6' IF U BOTH CARE
FOR HIM YOU WILL KEEP YOUR MOUTHS SHUT,8~ IF UDECIDE
TO COME UP 8 SEE HIM ,STAY OUT OF MY WAY,THANK YOU
Or this lovely piece from someone who was stood up on a date:
hey, u turned out to be a total timewaster.i waited for u at hip-
podrome like a fool expecting u on time or even late.and didnt u
talk about punctuality?welI if this is how professional u r,g0od
lock to u in the future.i have met many good looking people and
unfortunately all of them dont have good personalities why r u
proud of it? i am sure there r many who look better too.and mind
u every individual has some talent or the other.so come down to
earth and take urself seriousIy.i can only wish u good luck my
friend! bye.
The frustrating part is I have to wade through thousands of
messages to get to ones that I actually want to read, which are fair-
ly small in number. If my e-mail program were a telephone, it
would never get back on the hook. Then again, there's something
satisfying about a permanent busy signal.