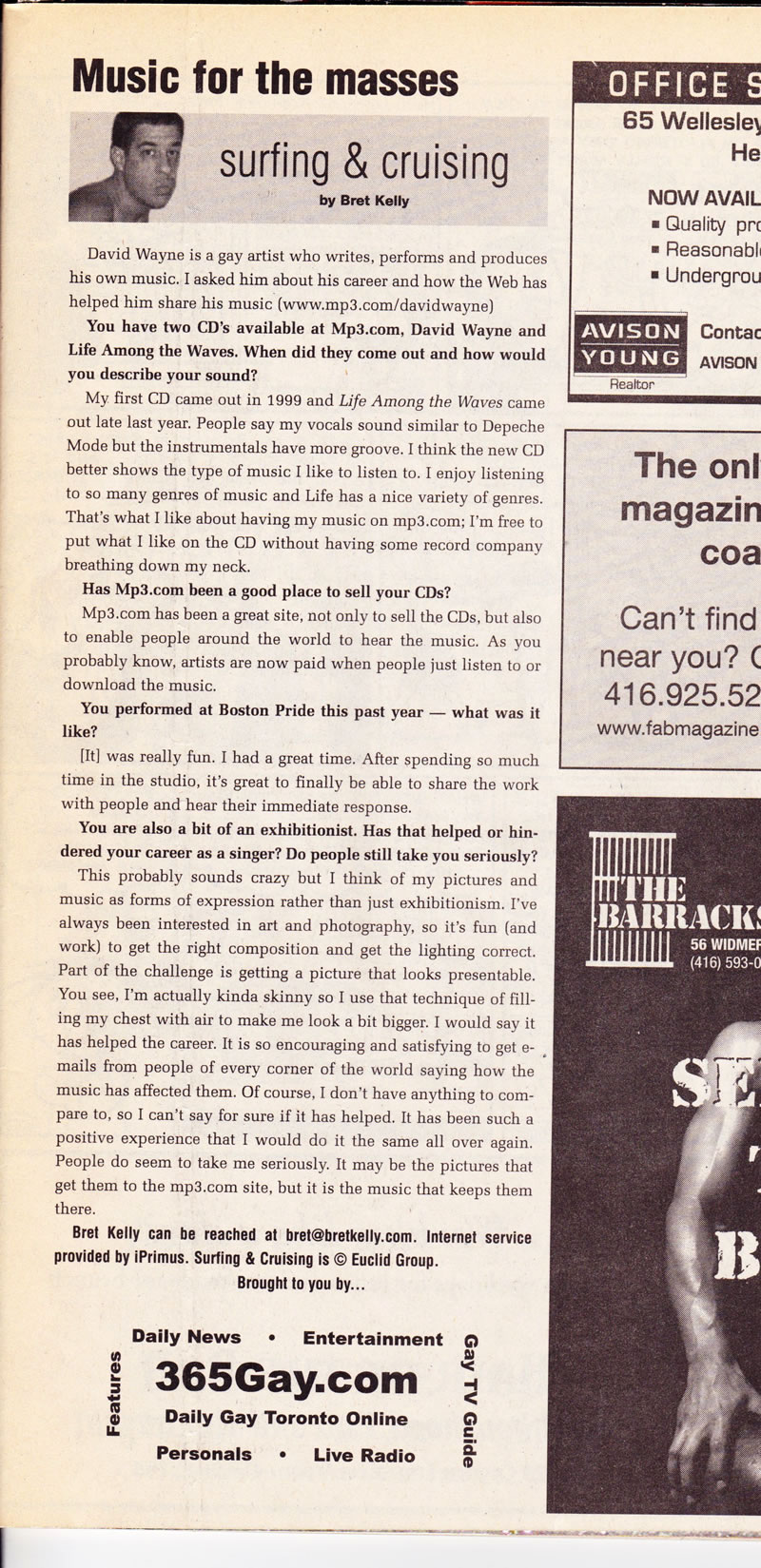 Surfing & Cruising
Music for the masses
by Bret Kelly
David Wayne is a gay artist who writes, performs and produces
his own music. I asked him about his career and how the Web has
helped him share his music (www.mp3.com/davidwayne]
You have two CD's available at Mp3.com, David Wayne and
Life Among the Waves. When did they come out and how would
you describe your sound?
My first CD Came out in 1999 and Life Among the Waves came
out late last year. People say my vocals sound similar to Depeche
Mode but the instrumentals have more groove. I think the new CD
better shows the type of music I like to listen to. I enjoy listening
to so many genres of music and Life has a nice variety of genres.
That's what I like about having my music on mp3.com; I'm free to
put what I like on tl1e CD without having some record company
breathing down my neck.
Has Mp3.com been a good place to sell your CDs?
Mp3.com has been a great site, not only to sell the CDs, but also
to enable people around the world to hear the music. As you
probably know, artists are now paid when people just listen to or
download the music.
You performed at Boston Pride this past year — what was it
like?
[It] was really fun. I had a great time. After spending so much
time in the studio, it's great to finally be able to share the work
with people and hear their immediate response.
You are also a bit of an exhibitionist. Has that helped or hin-
dered your career as a singer? Do people still take you seriously?
This probably sounds crazy but I think of my pictures and
music as forms of expression rather than just exhibitionism. I've
always been interested in art and photography, so it's fun (and
work) to get the right composition and get the lighting correct.
Part of the challenge is getting a picture that looks presentable.
You see, I'm actually kinda skinny so I use that technique of fill-
ing my chest with air to make me look a bit bigger. I would say it
has helped the career. It is so encouraging and satisfying to get e— _
mails from people of every corner of the world saying how the
music has affected them. Of course. I don't have anything to com-
pare to, so I can't say for sure if it has helped. It has been such a
positive experience that I would do it the same all over again.
People do seem to take me seriously. It may be the pictures that
get them to the mp3.com site, but it is the music that keeps them
there.