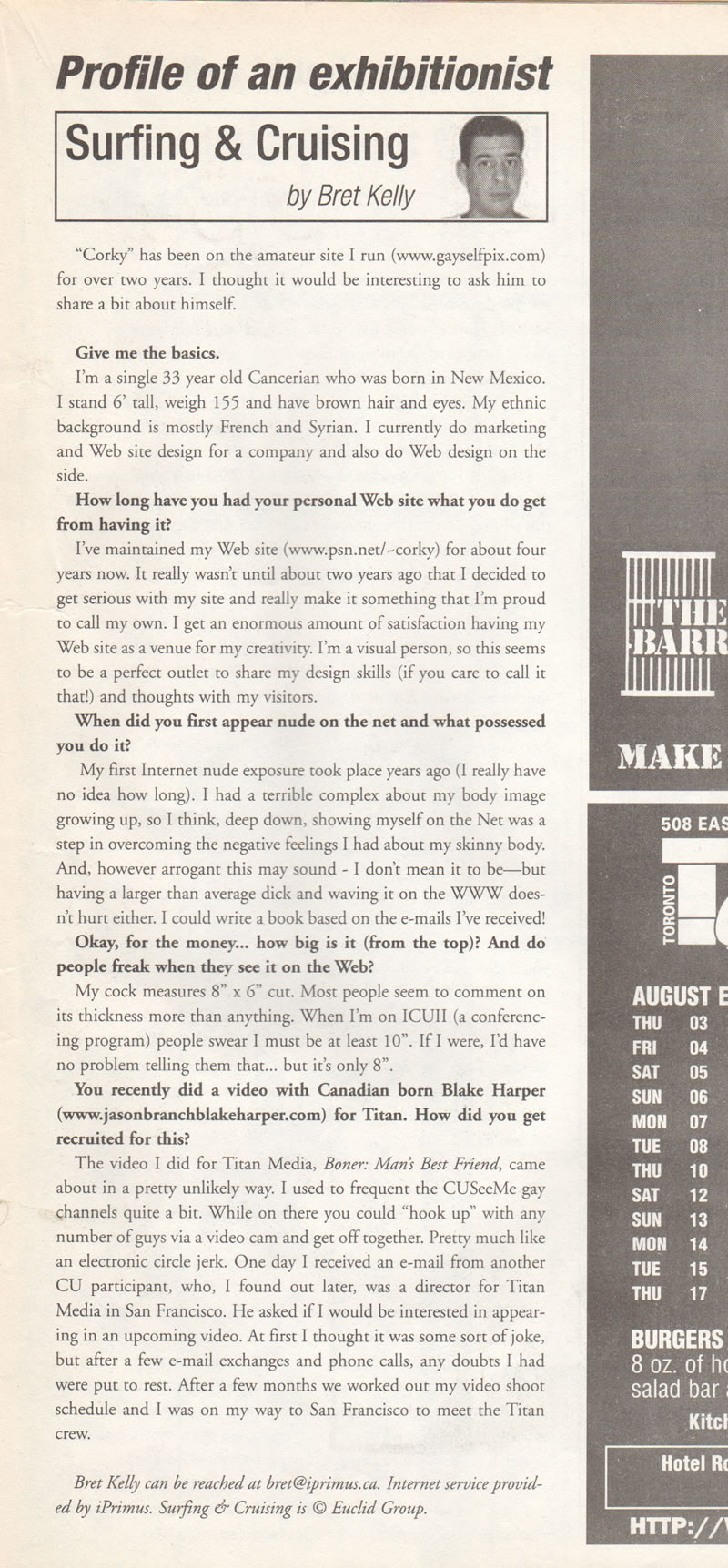 Surfing & Cruising
Profile of an exhibitionist
by Bret Kelly
"Corky" has been on the amateur site I run (www.gayselfpix.com)
for over two years. I thought it would be interesting to ask him to
share a bit about himself.
Give me the basics.
I'm a single 33-year-old Cancerian who was born in New Mexico.
I stand 6' tall, weigh 155 and have brown hair and eyes. My ethnic
background is mostly French and Syrian. I currently do marketing
and Web site design for a company and also do Web design on the
side.
How long have you had your personal Web site what you do get
from having it?
I've maintained my Web site (www.psn.net/—corky) for about four
years now. It really wasn't until about two years ago that I decided to
get serious with my site and really make it something that I'm proud
to call my own. I get an enormous amount of satisfaction having my
Web site as a venue for my creativity. I'm a visual person, so this seems
to be a perfect outlet to share my design skills (if you care to call it
that!) and thoughts with my visitors.
When did you first appear nude on the net and what possessed
you do it?
My first Internet nude exposure took place years ago (I really have
no idea how long). I had a terrible complex about my body image
growing up, so I think, deep down, showing myself on the Net was a
step in overcoming the negative feelings I had about my skinny body.
And, however arrogant this may sound – I don't mean it to be—but
having a larger than average dick and waving it on the WWW does-
n't hurt either. I could write a book based on the e-mails I've received!
Okay, for the money… how big is it (from the top)? And do
people freak when they see it on the Web?
My cock measures 8" x 6" cut. Most people seem to comment on
its thickness more than anything. When I'm on ICUII (a conferenc-
ing program) people swear I must be at least 10". If I were, I'd have
no problem telling them that… but it's only 8".
You recently did a video with Canadian born Blake Harper
(wwwjasonbranchblakeharper.com) for Titan. How did you get
recruited for this?
The video I did for Titan Media, Boner: Man} Best Friend, came
about in a pretty unlikely way. I used to frequent the CUSeeMe gay
channels quite a bit. While on there you could "hook up" with any
number of guys via a video cam and get off together. Pretty much like
an electronic circle jerk. One day I received an e—mail from another
CU participant, who, I found out later, was a director for Titan
Media in San Francisco. He asked if I would be interested in appear-
ing in an upcoming video. At first I thought it was some sort of joke,
but after a few e—mail exchanges and phone calls, any doubts I had
were put to rest. After a few months we worked out my video shoot
schedule and I was on my way to San Francisco to meet the Titan
crew.