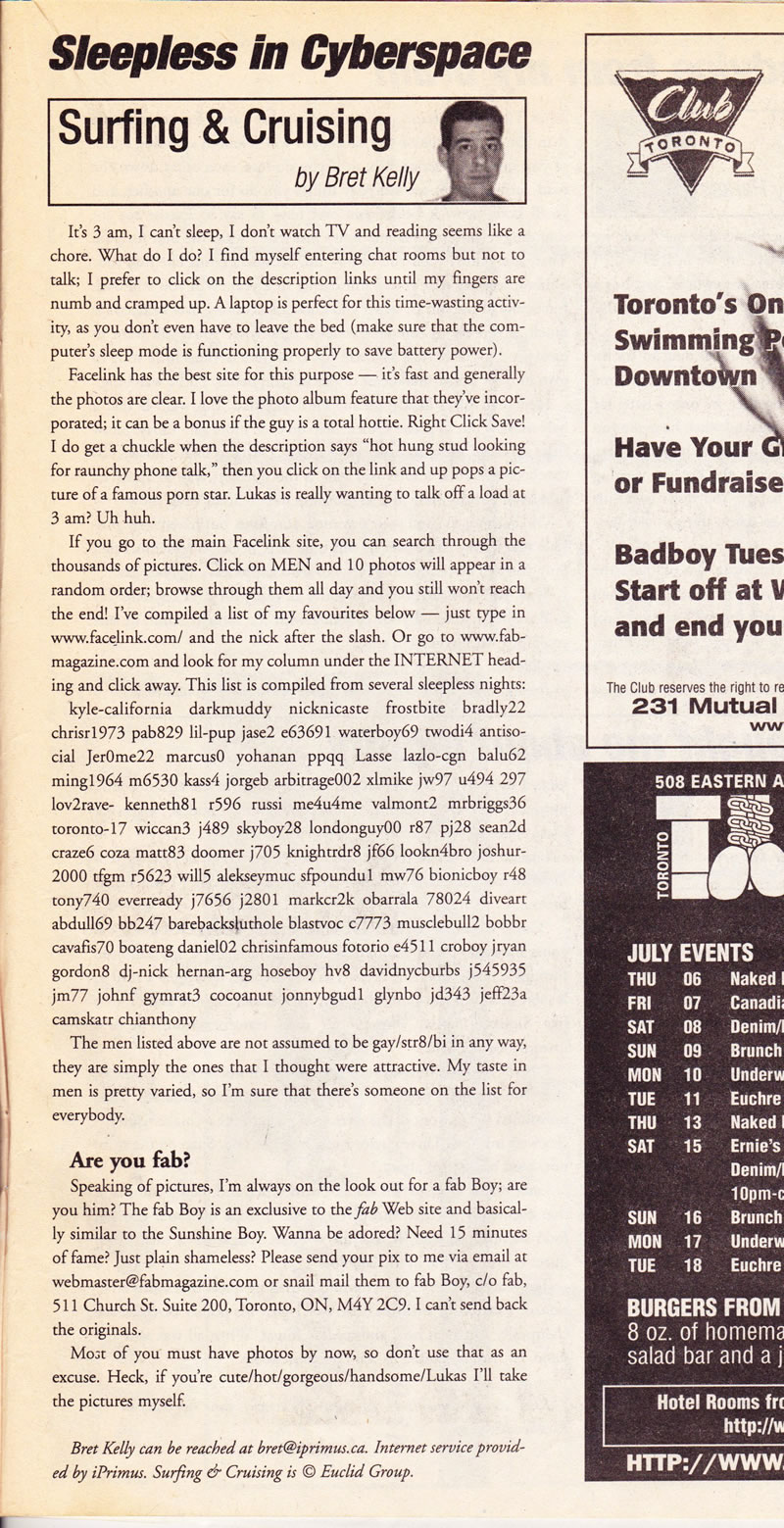 Surfing & Cruising
Sleepless in Cyberspace
by Bret Kelly ,
It's 3 am, I can't sleep, I don't watch TV and reading seems like a
chore. What do I do? I find myself entering chat rooms but not to
talk; I prefer to click on the description links until my fingers are
numb and cramped up. A laptop is perfect for this time—wasting activ-
ity, as you don't even have to leave the bed (make sure that the com-
puter's sleep mode is functioning properly to save battery power).
Facelink has the best site for this purpose — it's fast and generally
the photos are clear. I love the photo album feature that they've incor-
porated; it can be a bonus if the guy is a total hottie. Right Click Save!
I do get a 'chuckle when the description says "hot hung stud looking
for raunchy phone talk," then you click on the link and up pops a pic-
ture of a famous porn star. Lukas is really wanting to talk off a load at
3 am? Uh huh.
If you go to the main Facelink site, you can search through the
thousands of pictures. Click on MEN and 10 photos will appear in a
random order; browse through them all day and you still won't reach
the end! I've compiled a list of my favourites below — just type in
www.face_link.com/ and the nick after the slash. Or go to www.fab-
magazinecom and look for my column under the INTERNET head-
ing and click away. This list is compiled from several sleepless nights:
kyle-california darkmuddy nicknicaste frostbite bradly22
chrisr1973 pab829 lil-pup jase2 e63691 waterboy69 twodi4 antiso-
cial ]er0me22 marcus0 yohanan ppqq Lasse lazlo-cgn balu62
ming1964 m6530 kass/l jorgeb arbitrage002 xlmike jw97 u494 297
lov2rave- kenneth81 r596 russi me4u4me valmont2 mrbriggs36
toronto—17 wiccan3 j489 skyboy28 londonguy00 r87 pj28 sean2d
craze6 coza matt83 doomer j705 knightrdr8 jf66 lookn4bro joshur—
2000 tfgm r5623 will5 alekseymuc sfpoundul mw76 bionicboy r48
tony74O everready j7656 j2801 markcr2k obarrala 78024 diveart
abdull69 bb247 barebacksluthole blastvoc C7773 musclebull2 bobbr
cavafis70 boateng daniel02 chrisinfamous fotorio e4511 croboy jryan
gordon8 dj-nick hernan—arg hoseboy hv8 davidnycburbs j545935
jm77 johnf gymrat3 cocoanut jonnybgudl glynbo jd343 jeff23a
camskatr chianthony
The men listed above are not assumed to be gay/str8/ bi in any way,
they are simply the ones that I thought were attractive. My taste in
men is pretty varied, so I'm sure that there's someone on the list for
everybody.
Are you fab?
Speaking of pictures, I'm always on the look out for a fab Boy; are
you him? The fab Boy is an exclusive to the fab Web site and basical-
ly similar to the Sunshine Boy. Wanna be adored? Need 15 minutes
of fame? Just plain shameless? Please send your pix to me via email at
webmaster@fabmagazine.com or snail mail them to fab Boy, c/o fab,
511 Church St. Suite 200, Toronto, ON, M4Y 2C9. I can't send back
the originals.
Most of you must have photos by now, so don't use that as an
excuse. Heck, if you're cute/hot/gorgeous/handsome/Lukas I'll take
the pictures myself.