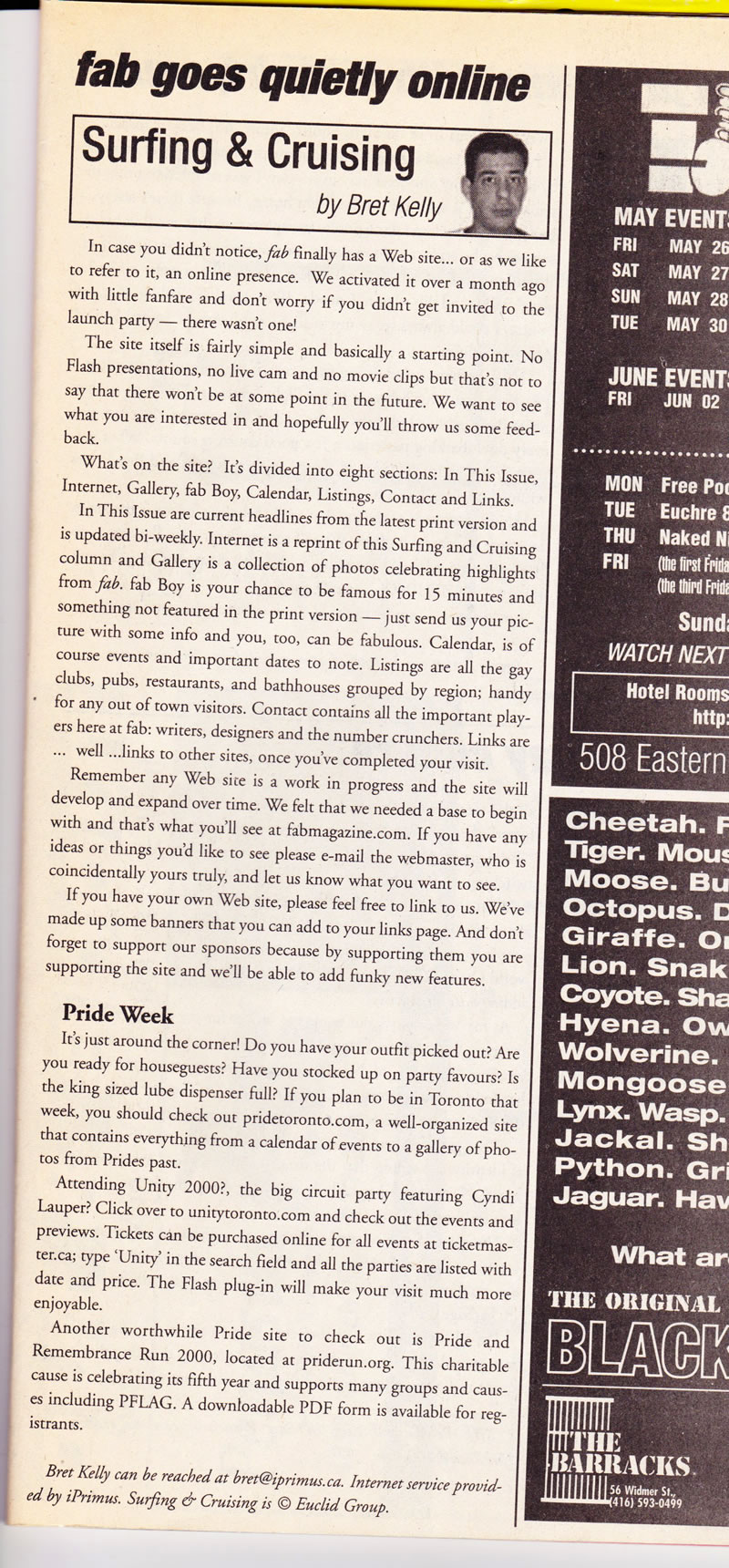 Surfing & Cruising
fab goes quietly online
by Bret Kelly
In case you didn't notice, fab finally has a Web site… or as we like
to refer to it, an online presence. We activated it over a month ago
with little fanfare and don't worry if you didn't get invited to the
launch party —— there wasn't one.'
The site itself is fairly simple and basically a starting point. No
Flash presentations, no live cam and no movie clips but that's not to
say that there won't be at some point in the future. We want to see
what you are interested in and hopefully you'll throw us some feed-
back.
What's on the site? It's divided into eight sections: In This Issue,
Internet, Gallery, fab Boy, Calendar, Listings, Contact and Links.
In This Issue are current headlines from the latest print version and
is updated bi-weekly. Internet is a reprint of this Surfing and Cruising
column and Gallery is a collection of photos celebrating highlights
from fill). fab Boy is your chance to be famous for 15 minutes and
something not featured in the print version —— just send us your pic-
ture with some info and you, too, can be fabulous. Calendar, is of
course events and important dates to note. Listings are all the gay
clubs, pubs, restaurants, and bath houses grouped by region; handy
for any out of town visitors. Contact contains all the important play-
ers here at fab: writers, designers and the number crunchers. Links are well …links to other sites, once you've completed your visit.
Remember any Web site is a work in progress and the site will
develop and expand over time. We felt that we needed a base to begin
with and that's what you'll see at fabmagazine.com. If you have any
ideas or things you'd like to see please e—mail the webmaster, who is
coincidentally yours truly, and let us know what you want to see.
If you have your own Web site, please feel free to link to us. We've
made up some banners that you can add to your links page. And don't
forget to support our sponsors because by supporting them you are
supporting the site and we'll be able to add funky new features.
Pride Week
It's just around the corner.' Do you have your outfit picked out? Are
you ready for house guests? Have you stocked up on party favours? Is
the king sized lube dispenser fiall? If you plan to be in Toronto that
week, you should check out pridetoronto.com, a well-organized site
that contains everything from a calendar of events to a gallery of pho-
tos from Prides past.
Attending Unity 2000?, the big circuit party featuring Cyndi
Lauper? Click over to unitytoronto.com and check out the events and
previews. Tickets can be purchased online for all events at ticketmas-
ter.ca; type 'Unity' in the search field and all the parties are listed with
date and price. The Flash plug-in will make your visit much more
enjoyable.
Another worthwhile Pride site to check out is Pride and
Remembrance Run 2000, located at priderun.org. This charitable
cause is celebrating its fifth year and supports many groups and caus-
es including PFLAG. A downloadable PDF form is available for reg-
istrants.