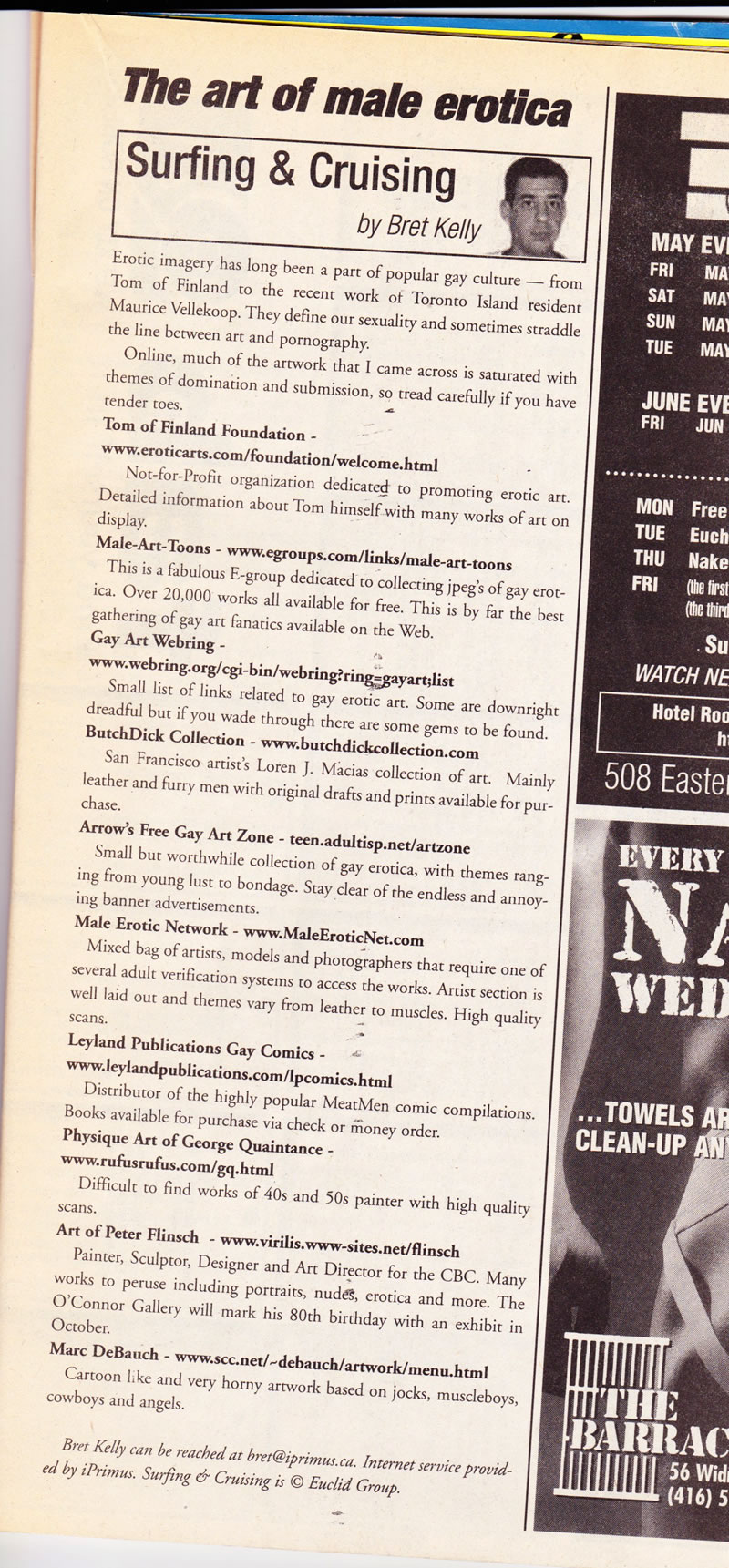 Surfing & Cruising
by Bret Kelly
The art of male erotica
Tom of Finland Foundation —
www.eroticai-ts.com/foundation/welcome.html
Not—for—ProHr organization dedicated to promoting erotic art.
Detailed information about Tom himself with many works of art on
display.
Male—Art~Toons — www.egroups.com/links/male—art-toons
This is a fabulous E—group dedicated to collecting jpeg's of gay erot-
ica. Over 20,000 works all available for free. This is by far the best
gathering optical art fanatics available on the Web.
Gay Art Webring —
www.webring.org/cgi-bin/webring?ring:gayart;list
Small list of links related to gay erotic art. Some are downright dreadful but if you wade through there are some gems to be found.
ButchDick Collection – www.butchdickcollection.com
San Francisco artists Loren ]. Macias collection of art. Mainly
leather and furry men with original drafts and prints available for pur-
chase.
Male Erotic Network — www.MaleEroticNet.com
Mixed bag of artists, models and photographers that require one of
several adult verification systems to access the works. Artist section is
scans. A "Q
Leyland Publications Gay Comics –
www.leylandpublications.com/lpcomics.html
Distributor of the highly popular MeatMen comic compilations.
Books available for purchase via check or money order. '
Physique Art of George Quaintance – '
www.rufi1srufus.com/gq.l1tml
Difficult to find works of 405 and 505 painter with high quality
Art of Peter Flinsch — www.virilis.www—sites.net/flinsch
Designer and Art Director for the CBC. Many
works to pursue including portraits, nudes', erotica and more. The
O'Connor Gallery will mark his 80th birthday with an exhibit in
October.