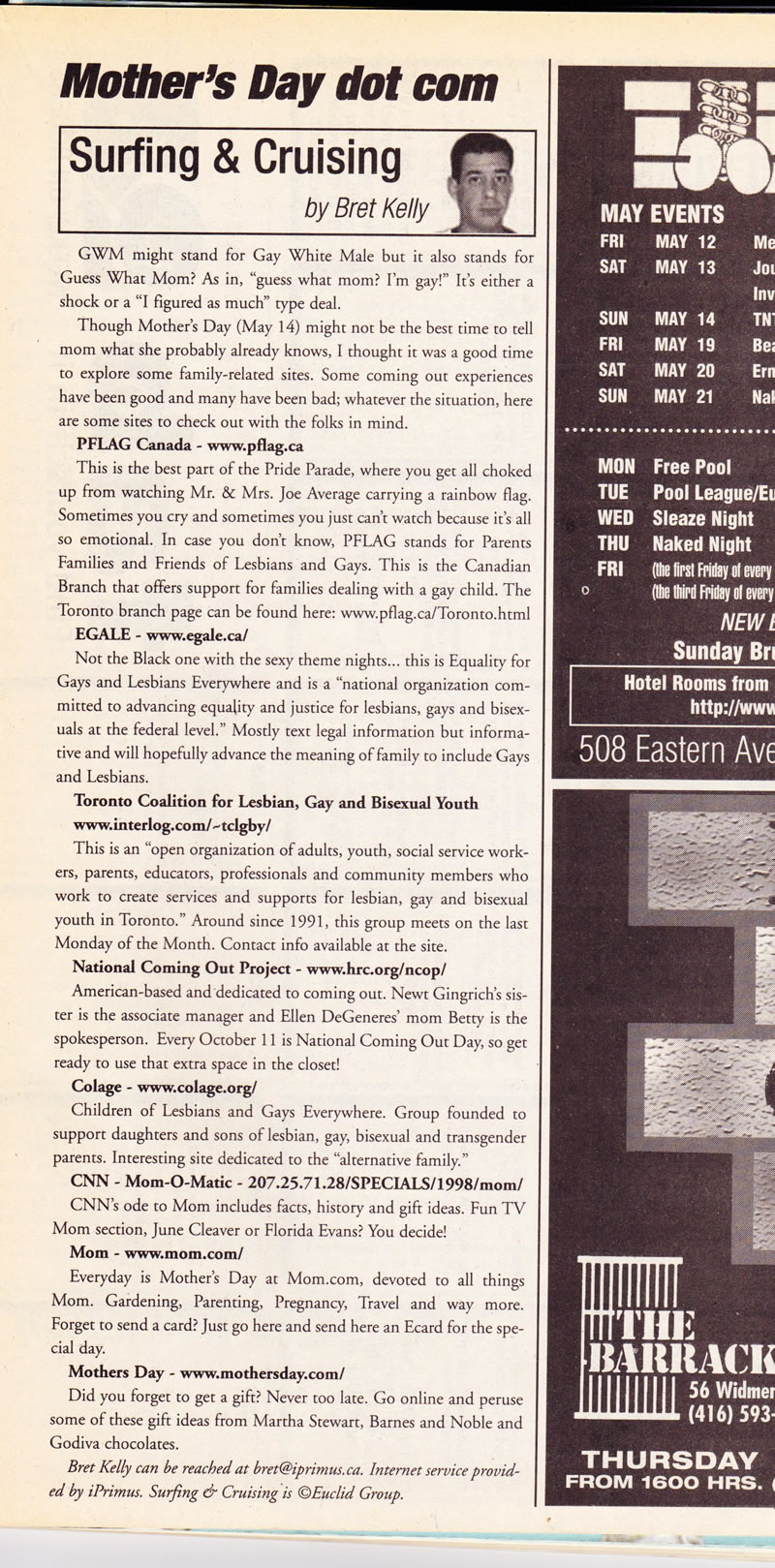 Surfing & Cruising
Mother's Day dot com
by Bret Kelly '
GWM might stand for Gay White Male but it also stands for
Guess What Mom? As in, "guess what mom? I'm gay!" It's either a
shock or a "I figured as much" type deal.
Though Mother's Day (May 14) might not be the best time to tell
mom what she probably already knows, I thought it was a good time
to explore some family—related sites. Some coming out experiences
have been good and many have been bad; whatever the situation, here
are some sites to check out with the folks in mind.
PFLAG Canada – www.pflag.ca
This is the best part of the Pride Parade, where you get all choked
up from watching Mr. & Mrs. Joe Average carrying a rainbow flag.
Sometimes you cry and sometimes you just can't watch because it's all
so emotional. In case you don't know, PFLAG stands for Parents
Families and Friends of Lesbians and Gays. This is the Canadian
Branch that offers support for families dealing with a gay child. The
Toronto branch page can be found here: www.pflag.ca/Toronto.html
EGALE – www.egale.ca/
Not the Black one with the sexy theme nights… this is Equality for
Gays and Lesbians Everywhere and is a "national organization com-
mitted to advancing equality and justice for lesbians, gays and bisex-
uals at the federal level." Mostly text legal information but informa-
tive and will hopefully advance the meaning of family to include Gays
and Lesbians.
Toronto Coalition for Lesbian, Gay and Bisexual Youth
www.interlog.com/~tclgby/
This is an "open organization of adults, youth, social service work-
ers, parents, educators, professionals and community members who
work to create services and supports for lesbian, gay and bisexual
youth in Toronto." Around since 1991, this group meets on the last
Monday of the Month. Contact info available at the site.
National Coming Out Project — www.hrc.org/ncop/
American-based and 'dedicated to coming out. Newt Gingrich's sis-
ter is the associate manager and Ellen DeGeneres' mom Betty is the
spokesperson. Every October I I is National Coming Out Day, so get
ready to use that extra space in the closet!
Colage – www.colage.org/
Children of Lesbians and Gays Everywhere. Group founded to
support daughters and sons of lesbian, gay, bisexual and transgender
parents. Interesting site dedicated to the "alternative family."
CNN — Mom—0—Matic – 207.25.7l.28/SPECIALS/l998/mom/
CNN's ode to Mom includes facts, history and gift ideas. Fun TV
Mom section, June Cleaver or Florida Evans? You decide!
Mom – www.mom.com/
Everyday is Mother's Day at Mom.com, devoted to all things
Morn. Gardening, Parenting, Pregnancy, Travel and way more.
Forget to send a card? Just go here and send here an Ecard for the spe-
cial day.
Mothers Day – www.mothersday.corn/
Did you forget to get a gift? Never too late. Go online and pursue
some of these gift ideas from Martha Stewart, Barnes and Noble and
Godiva chocolates.