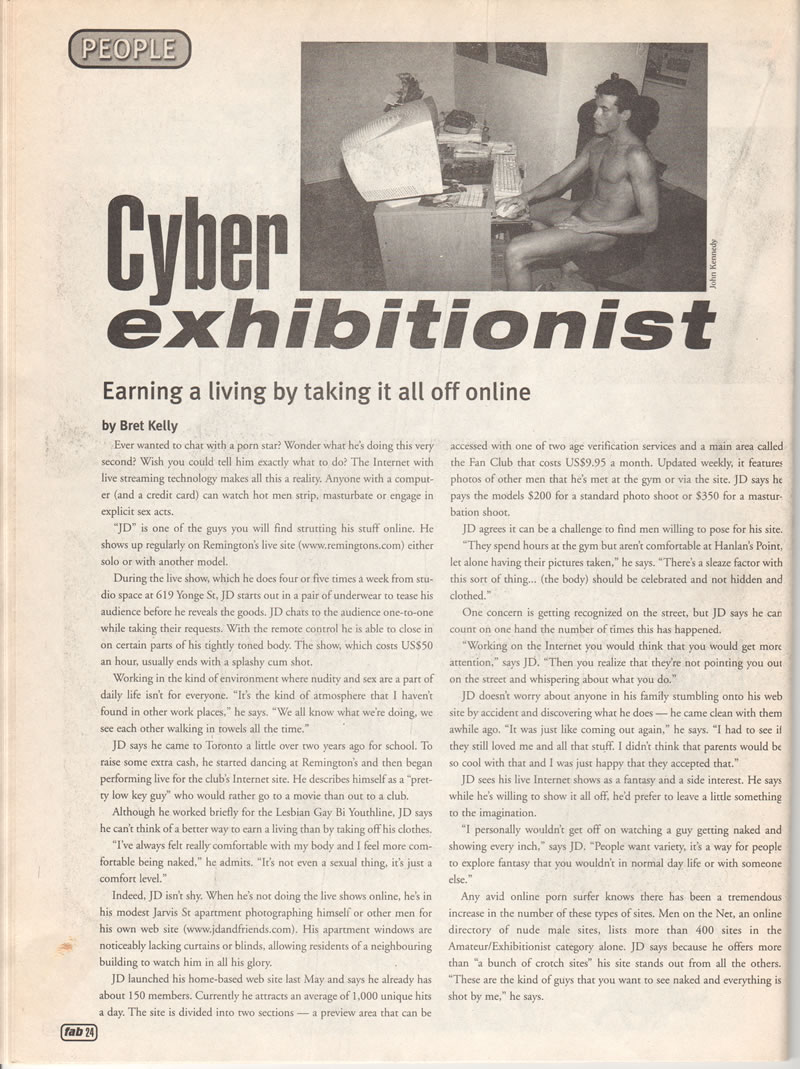 Earning a living by taking it all off online
by Bret Kelly
.Ever wanted to chat with a porn star? Wonder what he's doing this very
second? Wish you could tell him exactly what to do? The Internet with
live streaming technology makes all this a reality. Anyone with a comput—
er (and a credit card) can watch hot men strip, masturbate or engage in
' explicit sex acts.
"JD" is one of the guys you will find strutting his stuff online. He
shows up regularly on Remington's live site (wvvw.remingtons.com) either
solo or with another model.
During the live show, which he does four or five times a week from stu-
dio space at 619 Yonge St, JD starts out in a pair of underwear to tease his
audience before he reveals the goods. JD chats to the audience one—to—one
while taking their requests. With the remote control he is able to close in
on certain parts of his tightly toned body. The show, which costs US$50
an hour, usually ends with a splashy cum shot.
Working in the kind of environment where nudity and sex are a part of
daily life isn't for everyone. "It's the kind of atmosphere that I haven't
found in other work places," he says. "We all know what we're doing, we
see each other walking in towels all the time." '
JD says he came to Toronto a little over two years ago for school. To
raise some extra cash, he started dancing at Remington's and then began
performing live for the club's Internet site. He describes himself as a "pret—
ty low key guy" who would rather go to a movie than out to a club.
Although he worked briefly for the Lesbian Gay Bi Youthline, JD says
he can't think of a better way to earn a living than by taking off his clothes.
"I've always felt really' comfortable with my body and I feel more com-
fortable being naked," he admits. "It's not even a sexual thing, it's just a
comfort level." I
Indeed, JD isn't shy. When he's not doing the live shows online, he's in
his modest Jarvis St apartment photographing himself or other men for
his own website (wvvw.jdandfriends.com). His apartment windows are
noticeably lacking curtains or blinds, allowing residents of a neighbouring
building to watch him in all his glory. .
JD launched his home-based web site last May and says he already has
about 150 members. Currently he attracts an average of 1,000 unique hits
a day. The site is divided into two sections —— a preview area that can be
accessed with one of two age verification services and a main area called '
the Fan Club that costs US$9.95 a month. Updated weekly, it features
photos of other men that he's met at the gym or via the site. 'JD says he
pays the models $200 for a standard photo shoot or $350 for a masturbation shoot.
JD agrees it can be a challenge to find men willing to pose for his site.
"They spend hours at the gym but aren't comfortable at Hanlan's Point, :
let alone having their pictures taken," he says. "There's a sleaze factor with I
this sort of thing… (the body) should be celebrated and not hidden and
clothed."
One concern is getting recognized on the street, but JD says he can
count on one hand the number of times this has happened.
"Working on the Internet you would think that you would get more
attention," says JD. "Then you realize that they're not pointing you out '
on the street and whispering about what you do." _
JD doesn't worry about anyone in his family stumbling onto his web
site by accident and discovering what he does — he came clean with them
awhile ago. "It was just like coming out again," he says. "I had to see if
they still loved me and all that stuff I didn't think that parents would be
so cool with that and I was just happy that they accepted that."
JD sees his live Internet shows as a fantasy and a side interest. He says
while he's willing to show it all off, he'd prefer to leave a little something
to the imagination. .
"I personally wouldn't get off on watching a guy getting naked and
showing every inch," says JD. "People want variety, it's a way for people
to explore fantasy that you wouldn't in normal day life or with someone
else."
Any avid online porn surfer knows there has been a tremendous
increase in the number of these types of sites. Men on the Net, an online
directory of nude male sites, lists more than 400 sites in the
Amateur/Exhibitionist category alone. JD says because he offers more
than "a bunch of crotch sites" his site stands out from all the others.
"These are the kind of guys that you want to see naked and everything is
shot by me," he says.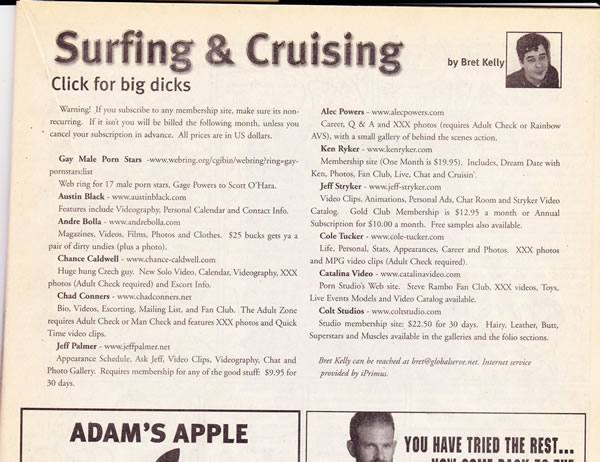 Click for big dicks
Warning! If you subscribe to any membership site, make sure its non-
recurring. If it isn't you will be billed the Following month, unless you
' cancel your subscription in advance. All prices are in US dollars.
Gay Male Porn Stars —wwvv.webring.org/cgibin/webring?ring=gay—
pornstars;list
Web ring for 17 male porn stars, Gage Powers to Scott O'Hara.
Austin Black — www.austinblack.com
Features include videography, Personal Calendar and Contact Info.
Andre Bolla — Www.andrebolla.com
Magazines, Videos, Films, Photos and Clothes. $25 bucks gets ya a
pair of dirty undies (plus a photo).
Chance Caldwell — www.chance-caldwellcom
Huge hung Czech guy. New Solo Video, Calendar, Videography, XXX
photos (Adult Check required) and Escort Info. 9
Chad Conners — www.t:hadconners.net
Bio, Videos, Escorting, Mailing List, and Fan Club. The Adult Zone
requires Adult Check or Man Check and features XXX photos and Quick
Time video clips.
Jeff Palmer — www.jeffpalmer.net
Appearance Schedule, Ask Jeff, Video Clips, Videography, Chat and
Photo Gallery. Requires membership For any of the good stuff: $9.95 for
30 days.
Alec Powers — www.alecpowers.com
Career, Q ('SI A and XXX photos (requires Adult Check or Rainbow
AVS), with a small gallery of behind the scenes action.
Ken Ryker — www.kenryl<er.com
Membership site (One Month is $19.95). Includes, Dream Date with
Ken, Photos, Fan Club, Live, Chat and Cruisin'. '
Jeff Stryker — www.jefF—stry1<er.com
Video Clips, Animations, Personal Ads, Chat Room and Stryker Video
Catalog. Gold Club Membership is $12.95 a month or Annual
Subscription for $10.00 a month. Free samples also available.
ColeTucker — www.cole4tucl<er.com
Life, Personal, Stats, Appearances, Career and Photos. XXX photos 1
and MPG video clips (Adult Check required).
Catalina Video — wvvw.cata1inavideo.c0m
Porn Studios Web site. Steve Rambo Fan Club, XXX videos, Toys,
Live Events Models and Video Catalog available.
Colt Studios — wvvw.coltstudio.com
Studio membership site:' $22.50 for 30 days. Hairy, Leather, Butt,
Superstars and Muscles available in the galleries and the Folio sections.