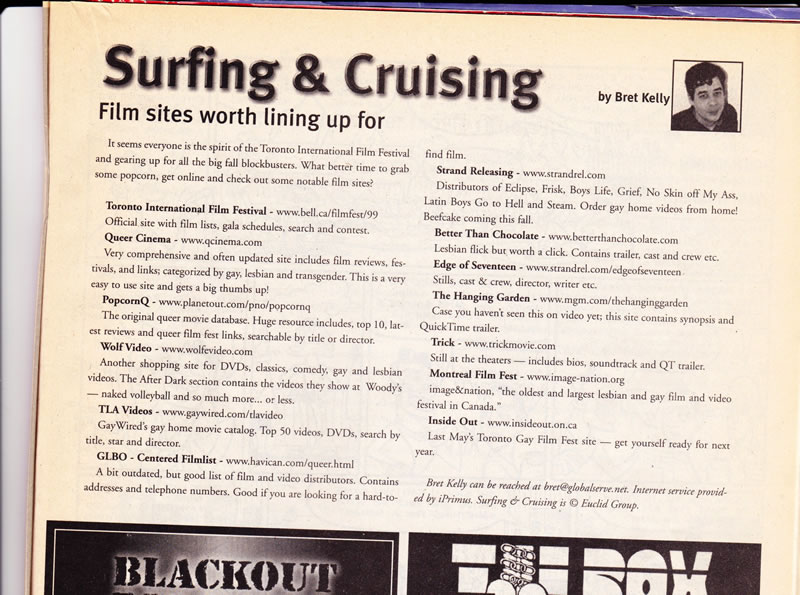 Film sites worth lining up for
It seems everyone is the spirit of the Toronto International Film Festival
and gearing up for all the big fall blockbusters. What better time to grab
some popcorn, get online and check out some notable film sites?
Toronto International Film Festival – wvvw.bell.ca/ fllmfest/ 99
Official site with film lists, gala schedules, search and contest.
Queer Cinema – www.qcinema.com _
Very comprehensive and often updated site includes film reviews, fes—
rivals, and links; categorized by gay, lesbian and transgender. This is a very
easy to use site and gets a big thumbs up!
PopcomQ — www.planetout.com/pno/popcornq
The original queer movie database. Huge resource includes, top 10, lat-
est reviews and queer film fest links, searchable by title or director.
Wolf Video – www.wolfevideo.com
Another shopping site for DVDs, classics, comedy, gay and lesbian
videos. The After Dark section contains the videos they show at Woody's
—— naked volleyball and so much more… or less.
TLA Videos — www.gaywired.com/tlavideo
Gay\Wired's gay home movie catalog. Top 50 videos, DVDs, search by
title, star and director.
GLBO — Centered Filmlist — www.havican.com/queer.html
A bit outdated, but good list of film and video distributors. Contains
addresses and telephone numbers. Good if you are looking for a hard—t0—find film.
Strand Releasing – www.strandrel.com
Distributors of Eclipse, Frisk, Boys Life, Grief, No Skin off My Ass,
Latin Boys Go to Hell and Steam. Order gay home videos from home!
Beefcake coming this fall.
Better Than Chocolate – www.betterthanchocolatecom
Lesbian flick but worth a click. Contains trailer, cast and crew etc.
Edge of Seventeen — www.strandrel.com/edgeofseventeen
Stills, cast & crew, director, writer etc.
The Hanging Garden – wvvw.mgm.com/thehanginggarden
Case you haven't seen this on video yet; this site contains synopsis and
QuickTime trailer.
Trick — www.trickmovie.c0m
Still at the theaters —— includes bios, soundtrack and QT trailer.
Montreal Film Fest — www.image—nation.otg
image&nation, "the oldest and largest lesbian and gay film and video
festival in Canada."
Inside Out – wvvw.insideout.on.ca
Last May's Toronto Gay Film Fest site —— get yourself ready for next
year