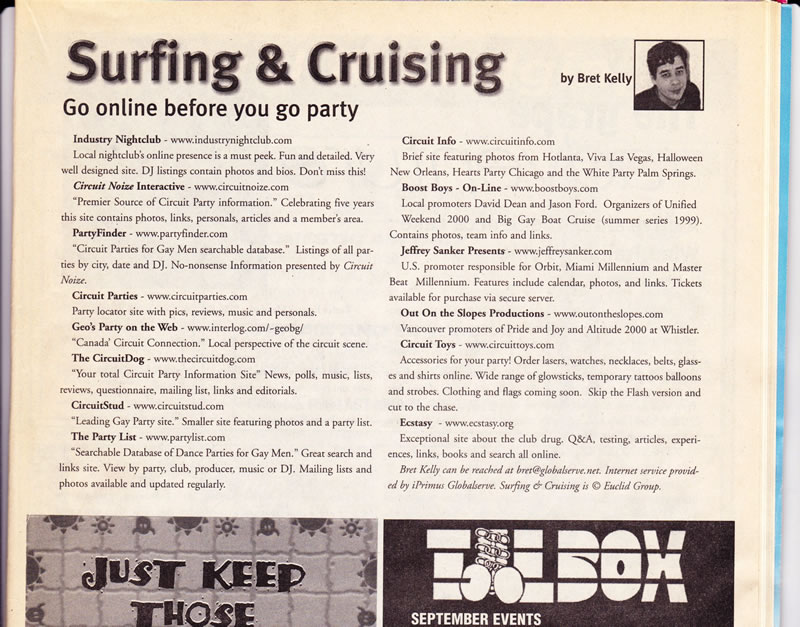 Go online before you go party
Industry Nightclub – www.industrynightc1ub.com
Local nightclubs online presence is a must peek. Fun and detailed. Very
well designed site. D] listings contain photos and bios. Don't miss this!
Circuit Noize Interactive — www.circuitnoize.com
"Premier Source of Circuit Party information." Celebrating five years
this site contains photos, links, personals, articles and a members area.
PartyFinder — www.partyfinder.com
"Circuit Parties for Gay Men searchable database." Listings of all par—
ties by city, date and D]. No—nonsense Information presented by Circuit
Noize. '
Circuit Parties — www.circuitparties.com
Party locator site with pics, reviews, music and personals.
Geo's Party on the Web — www.interlog.com/~geobg/
"Canada Circuit Connection." Local perspective of the circuit scene.
The CircuitDog — www.thecircuitdog.com
"Your total Circuit Party Information Site" News, polls, music, lists,
reviews, questionnaire, mailing list, links and editorials.
CircuitStud – www.circuitstud.com
"Leading Gay Party site." Smaller site featuring photos and a party list.
The Party List — wvvw.partylist.com
"Searchable Database of Dance Parties for Gay Men." Great search and
links site. View by party, club, producer, music or D]. Mailing lists and
photos available and updated regularly.
Circuit Info — www.circuitinfo.corn
Brief site featuring photos from Hotlanta, Viva Las Vegas, Halloween
New Orleans, Hearts Party Chicago and the White Party Palm Springs.
Boost Boys — On-Line – www.boostboys.com
Local promoters David Dean and Jason Ford. Organizers of Unified
Weekend 2000 and Big Gay Boat Cruise (summer series 1999).
Contains photos, team info and links.
Jeffrey Sanker Presents — www.jeffreysanker.com
U.S. promoter responsible for Orbit, Miami Millennium and Master
Beat Millennium. Features include calendar, photos, and links. Tickets
available for purchase via secure server.
Out On the Slopes Productions — www.outontheslopes.com
Vancouver promoters of Pride and Joy and Altitude 2000 at \X/histler.
Circuit Toys — www.circuittoys.com
Accessories for your party! Order lasers, watches, necklaces, belts, glass-
es and shirts online. Wide range of glowsticks, temporary tattoos balloons
and strobes. Clothing and flags coming soon. Skip the Flash version and
Cut to the chase.
~Ecstasy — www.ecstasy.org
Exceptional site about the club drug. Q8CA, testing, articles, experi-
ences, links, books and search all online.