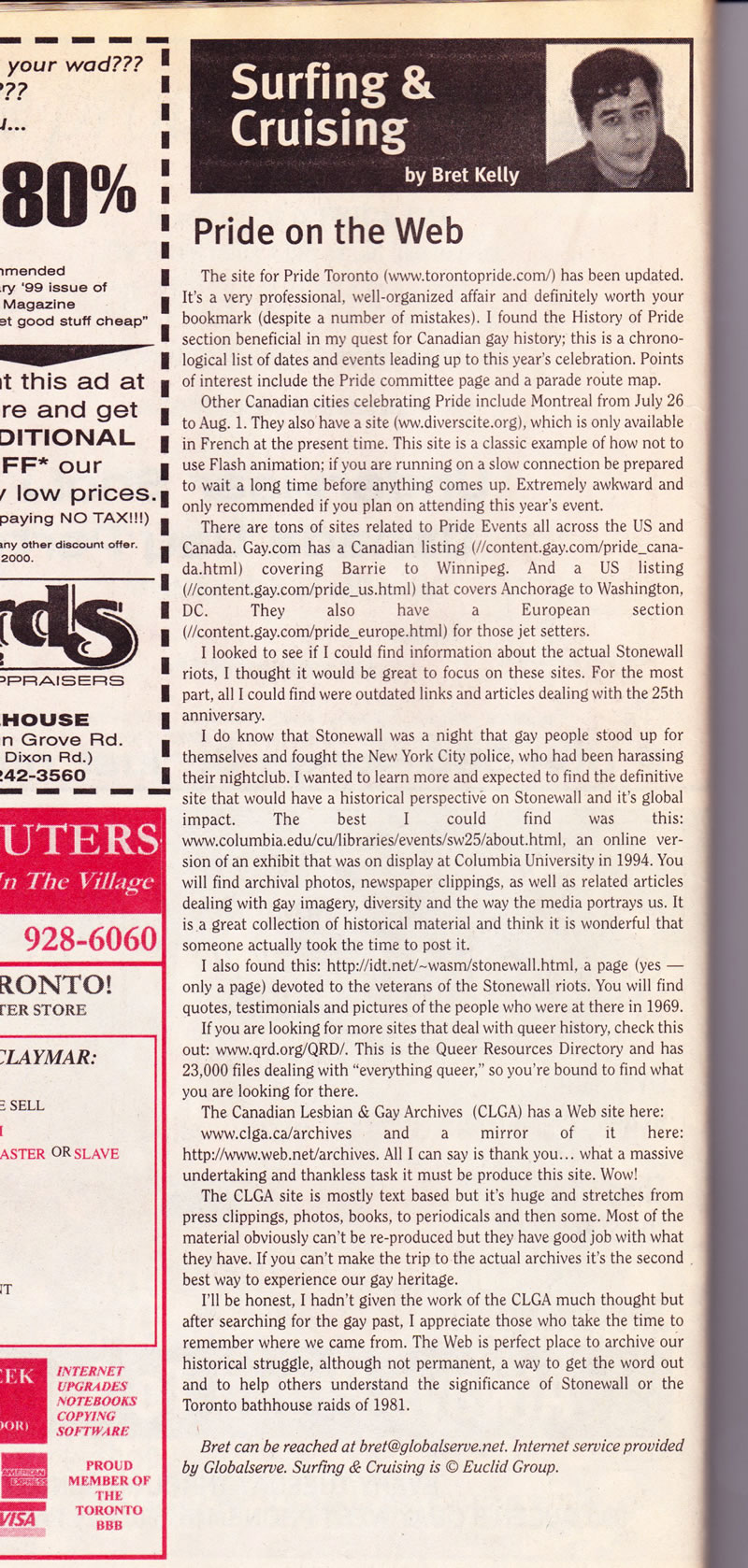 Surfing & Cruising
by Bret Kelly
Pride on the Web
The site for Pride Toronto (wvvw.torontopride.com/) has been updated.
It's a professional, well—organized affair and definitely worth your
bookmark (despite a number of mistakes). I found the History of Pride
section beneficial in my quest for Canadian gay history; this is a chrono-
logical list of dates and events leading up to this year's celebration. Points
of interest include the Pride committee page and a parade route map.
Other Canadian cities celebrating Pride include Montreal from July 26
5 to Aug. 1. They also have a site (ww.diverscite.org), which is only available
in French at the present time. This site is a classic example of how not to
use Flash animation; if you are running on a slow connection be prepared
to wait a long time before anything comes up. Extremely awkward and
only recommended if you plan on attending this year's event.
There are tons of sites related to Pride Events all across the US and
Canada. Gay.com has a Canadian listing covering Barrie to Winnipeg. And a US listing
(//content.gay.com/pride_us.html) that covers Anchorage to Washington,
. They also have a European section.(//content.gay.com/pride_europe.html) for those jet setters.
I looked to see if I could find information about the actual Stonewall
lriots, I thought it would be great to focus on these sites. For the most
part, all I could find were outdated links and articles dealing with the 25th
anniversary.
I do know that Stonewall was a night that gay people stood up for themselves and fought the New York City police, who had been harassing their nightclub I wanted to learn more and expected to find the definitive site that would have a historical perspective on Stonewall and its global
impact.
The best I could find was this:
www.columbia.edu/cu/1ibraries/events/sw25/about.html, an online ver-
sion of an exhibit that was on display at Columbia University in 1994. You
will find archival photos, newspaper clippings, as well as related articles
dealing with gay imagery, diversity and the way the media portrays us. It
is _a great collection of historical material and think it is wonderful that
someone actually took the time to post it.
I also found this: http://idt.net/~wasm/stonewall.html, a page (yes —
only a page) devoted to the veterans of the Stonewall riots. You will find
quotes, testimonials and pictures of the people who were at there in 1969.
If you are looking for more sites that deal with queer history, check this
out: www.qrd.org/QRD/. This is the Queer Resources Directory and has
23,000 files dealing with "everything queer," so you're bound to find what
you are looking for there.
The Canadian Lesbian & Gay Archives (CLGA) has a Web site here:
www.clga.ca/archives and a mirror of it here:
http://www.web.net/archives. All I can say is thank you… what a massive
undertaking and thankless task it must be to produce this site. Wow!
The CLGA site is mostly text-based but its huge and stretches from press clippings, photos, books, to periodicals and then some. Most of the
material obviously can't be re-produced but they have the good job with what they have. If you can't make the trip to the actual archives it's the second . best way to experience our gay heritage.
I'll be honest, I hadn't given the work of the CLGA much thought but
after searching for the gay past, I appreciate those who take the time to
remember where we came from. The Web is perfect place to archive our
historical struggle, although not permanent, a way to get the word out
and to help others understand the significance of Stonewall or the
Toronto bathhouse raids of 1981.