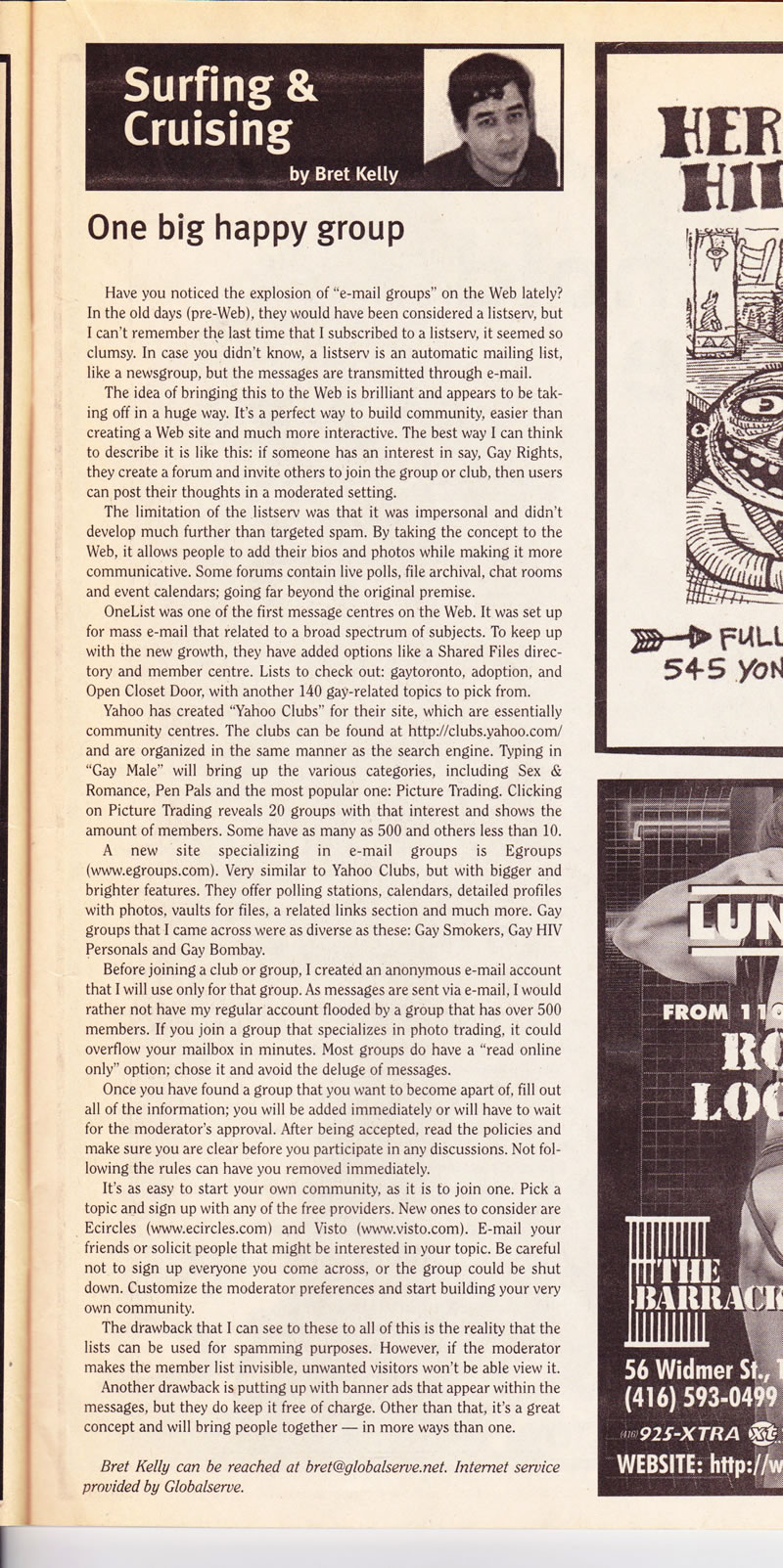 Surfing & Cruising
by Bret Kelly
One big happy group
Have you noticed the explosion of "e—mail groups" on the Web lately?
In the old days (pre-Web), they would have been considered a listserv, but
I can't remember the last time that I subscribed to a listserv, it seemed so
clumsy. In case you didn't know, a listserv is an automatic mailing list,
like a newsgroup, but the messages are transmitted through e—mail.
The idea of bringing this to the Web is brilliant and appears to be tak-
ing off in a huge way. It's a perfect way to build community, easier than
creating a Web site and much more interactive. The best way I can think
to describe it is like this: if someone has an interest in say, Gay Rights,
they create a forum and invite others to join the group or club, then users
can post their thoughts in a moderated setting.
The limitation of the listserv was that it was impersonal and didn't
develop much further than targeted spam. By taking the concept to the
Web, it allows people to add their bios and photos while making it more
communicative. Some forums contain live polls, file archival, chat rooms
and event calendars; going far beyond the original premise.
OneList was one of the first message centres on the Web. It was set up
for mass e—mail that related to a broad spectrum of subjects. To keep up
with the new growth, they have added options like a Shared Files direc~
tory and member centre. Lists to check out: gaytoronto, adoption, and
Open Closet Door, with another 140 gay—related topics to pick from.
Yahoo has created "Yahoo Clubs" for their site, which are essentially
community centres. The clubs can be found at http://clubs.yahoo.com/
and are organized in the same manner as the search engine. Typing in
"Gay Male" will bring up the various categories, including Sex &
Romance, Pen Pals and the most popular one: Picture Trading. Clicking
on Picture Trading reveals 20 groups with that interest and shows the
amount of members. Some have as many as 500 and others less than 10.
A new site specializing in email groups is Egroups
(www.egroups.com). Very similar to Yahoo Clubs, but with bigger and
brighter features. They offer polling stations, calendars, detailed profiles
with photos, vaults for files, a related links section and much more. Gay
groups that I came across were as diverse as these: Gay Smokers, Gay HIV
Personals and Gay Bombay.
Before joining a club or group, I created an anonymous e—mail account
that I will use only for that group. As messages are sent via e—mail, Iwould
rather not have my regular account flooded by a group that has over 500
members. If you join a group that specializes in photo trading, it could
overflow your mailbox in minutes. Most groups do have a "read online
only" option; chose it and avoid the deluge of messages.
Once you have found a group that you want to become apart of, fill out
all of the information; you will be added immediately or will have to wait
for the moderators approval. After being accepted, read the policies and
make sure you are clear before you participate in any discussions. Not fol-
lowing the rules can have you removed immediately.
It's as easy to start your own community, as it is to join one. Pick a
topic and sign up with any of the free providers. New ones to consider are
_Ecircles (www.ecircles.com) and Visto (www.visto.com). E-mail your
friends or solicit people that might be interested in your topic. Be careful
not to sign up everyone you come across, or the group could be shut
down. Customize the moderator preferences and start building your very
own community.
The drawback that I can see to these to all of this is the reality that the
lists can be used for spamming purposes. However, if the moderator
makes the member list invisible, unwanted visitors won't be able view it.
Another drawback is putting up with banner ads that appear within the
messages, but they do keep it free of charge. Other than that, it's a great
concept and will bring people together — in more ways than one.