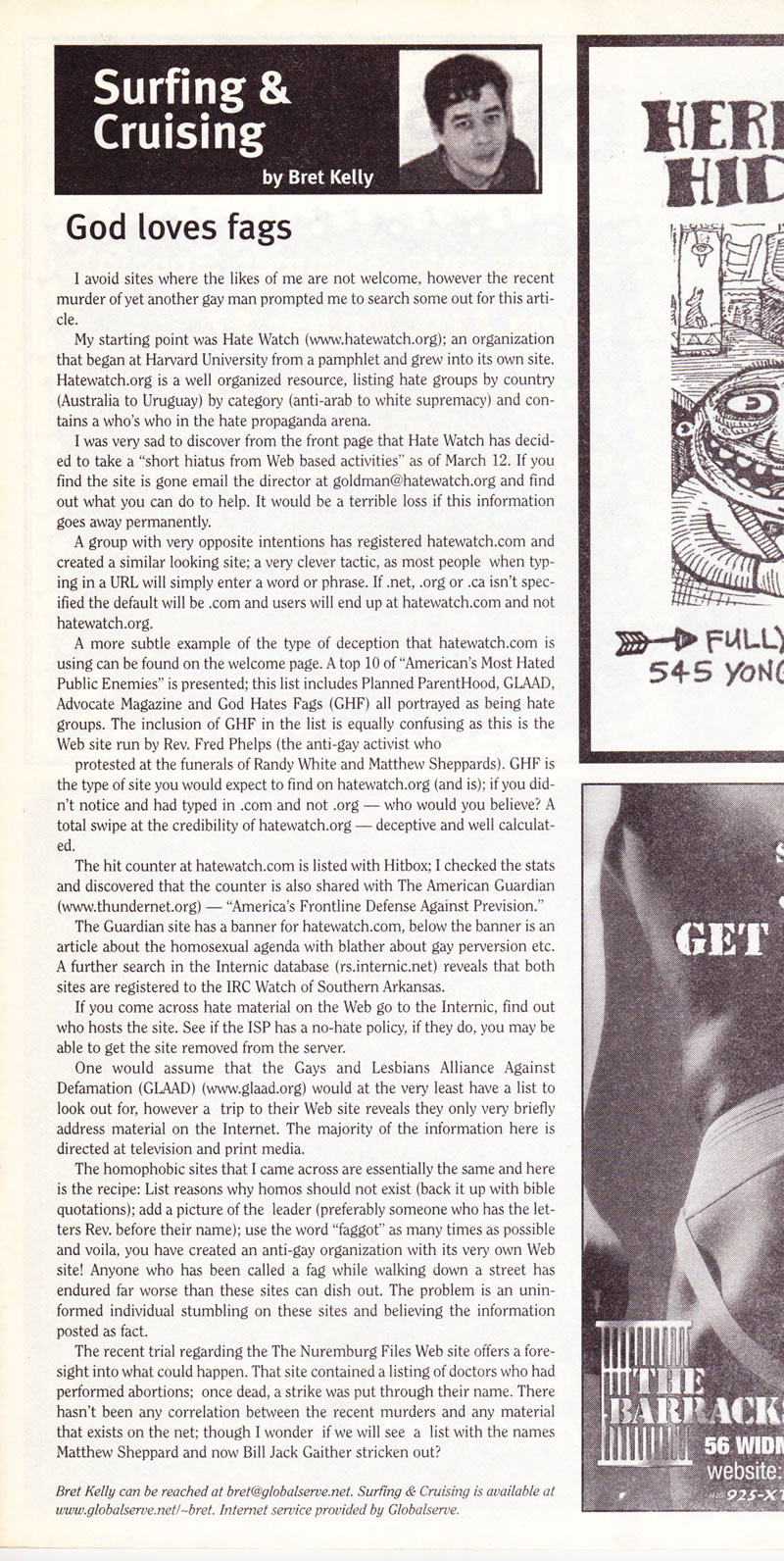 Surfing & Cruising
by Bret Kelly
God loves fags
I avoid sites where the likes of me are not welcome, however the recent
murder of yet another gay man prompted me to search some out for this arti-
cle.
My starting point was Hate Watch (www.hatewatch.org); an organization
that began at Harvard University from a pamphlet and grew into its own site.
Hatewatch.org is a well-organized resource, listing hate groups by country
(Australia to Uruguay) by category (anti—arab to white supremacy) and con-
tains a who's who in the hate propaganda arena.
Iwas very sad to discover from the front page that Hate Watch has decid-
ed to take a "short hiatus from Web-based activities" as of March 12. If you
find the site is gone email the director at goldman@hatewatch.org and find
out what you can do to help. It would be a terrible loss if this information
goes away permanently.
A group with very opposite intentions has registered hatewatchcom and
created a similar looking site; a very clever tactic, as most people when typ-
ing in a URL will simply enter a word or phrase. If .net, .org or .ca isn't spec-
ified the default will be .com and users will end up at hatewatchcom and not
hatewatch.org.
A more subtle example of the type of deception that hatewatch.com is
using can be found on the welcome page. A top 10 of "Americans Most Hated
Public Enemies" is presented; this list includes Planned ParentHood, GLAAD,
Advocate Magazine and God Hates Fags (GHF) all portrayed as being hate
groups. The inclusion of GHF in the list is equally confusing as this is the
Web site run by Rev. Fred Phelps (the anti—gay activist who
protested at the funerals of Randy White and Matthew Sheppards). GHF is
the type of site you would expect to find on hatewatch.org (and is); if you did-
n't notice and had typed in .com and not .org — who would you believe? A
total swipe at the credibility of hatewatch.org — deceptive and well calculat-
ed.
The hit counter at hatewatch.com is listed with Hitbox; I checked the stats
and discovered that the counter is also shared with The American Guardian
(www.thundernet.org) — "America's Frontline Defense Against Prevision."
The Guardian site has a banner for hatewatch.com, below the banner is an
article about the homosexual agenda with blather about gay perversion etc.
A further search in the lnternic database (rs.internic.riet) reveals that both
sites are registered to the IRC Watch of Southern Arkansas.
If you come across hate material on the Web go to the lnternic, find out
who hosts the site. See if the ISP has a no-hate policy, if they do, you may be
able to get the site removed from the server.
One would assume that the Gays and Lesbians Alliance Against
Defamation (GLAAD) (www.glaad.org) would at the very least have a list to
look out for, however a trip to their Web site reveals they only very briefly
address material on the Internet. The majority of the information here is
directed at television and print media.
The homophobic sites that I came across are essentially the same and here
is the recipe: List reasons why homos should not exist (back it up with bible
quotations); add a picture of the leader (preferably someone who has the let-
ters Rev. before their name); use the word "faggot" as many times as possible
and voila, you have created an anti-gay organization with its very own Web
site! Anyone who has been called a fag while walking down a street has
endured far worse than these sites can dish out. The problem is an unin-
formed individual stumbling on these sites and believing the information
posted as fact.
The recent trial regarding the The Nuremburg Files Web site offers a fore-
sight into what could happen. That site contained a listing of doctors who had
performed abortions; once dead, a strike was put through their name. There
hasn't been any correlation between the recent murders and any material
that exists on the net; though I wonder if we will see a list with the names
Matthew Sheppard and now Bill Jack Gaither stricken out?